X-V8L model
General characteristics
X-V8L experimental joined-wing ultralight design

Crew

1 pilot

Engine

two small 2-stroke engines (similar to "JPX PUL 212" or "SOLO 210")

Power

15 hp at 6000 rpm (30 hp total)

Dimensions

Wing area

40 sq.ft (3.7 m²)

Wing span

12.2 ft (3.7 m)

Wing aspect ratio

8.0

Length overall

8.2 ft (2.5 m)

Height overall

4.3 ft (1.3 m)

Weights

Max. fuel on board

40 lb (18 kg)

Weight empty

150 lb (68 kg)

Max. weight

400 lb (181 kg)

Payload

210 lb (95 kg)

Performance

Max. cruise speed

125 knots (230 km/h)

Max. climb rate

1200 ft/min (6 m/s)

Service ceiling

15000 ft (4500 m)

Stall speed (flaps down)

45 knots (83 km/h)

Take off run

1000 ft (300 m)

Landing run

1000 ft (300 m)
Max. range

400 nm (740 km)

This is a model I developed for
X-Plane
to test this uncommon aerodynamic scheme. It's not unique, yet: some people actually think that joined-wing design is superior to the traditional one. Here are some examples of joined-wing & box-wing aircrafts:
My idea was to create some kind of a "flying scooter". So, my X-V8L ultralight was based on the famous MC-15 Cricket (a.k.a. Cricri), which is the world's smallest twin-engine aircraft: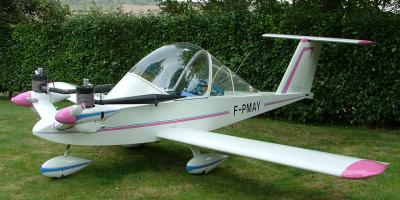 A "real world" reference is also important to evaluate if this thing would fly at all
Thus, X-V8L has (almost) the same power plant, weight and wing area as the MC15 Cricket. In fact, to obtain this data, I had to peek into another X-Plane model, the MC15 Cricket by Emmanuel Sanvito (a.k.a. Namu).
Now, the design itself is completely different. First of all, X-V8L has more wings and a bigger wing area. Second, it makes use of a ducted fan. This is supposed to give 50% thrust increase, and can be easily made for smaller propellers. At the time I modeled X-V8L for X-Plane, there was no ducted fan-specific option, so I had to simulate it increasing the engine power up to 22.5 hp. And rudder/elevator surfaces are currently
inside
the duct. This is supposed to redirect air flux to give better handling, as X-V8L has no horizontal/vertical stabilizers. On this model the effect is reforced by applying "vector trust" option to our tiny propeller engines.
The flight test results are surprising. All the data from the table shown above were obtained from the "flight tests" performed under X-Plane v7.10. And it got quite close to the "real thing": the MC15 Cricket!